Editorials
Disappearing Act
Save The Trees
Putting It All Together
We Are Taking Chances
FAQ
Jenny Awards 2017
Making Contact
Write your comments/reviews. Sign your written submission and include a phone number or e-mail address where you can be reached in case we need clarification (phone numbers etc., will not be printed or given out); and get it to us by one of these methods:

---
The Jenny Revue is a publication of The Jenny Revue Inc., a not-for-profit corporation, funded solely by advertising and donations. It is not affiliated with The Winnipeg Fringe Festival, MTC, or any other organization.


Follow @JennyRevue
As dragons land in Westeros, the Winnipeg Fringe Festival is into it's opening weekend. It has been a busy time in Jenny-land as we have covered almost 50 shows as of Saturday morning. You can see the whole list below this column. Clicking on a show link there will give you the show info from our Online Program Guide as well as any Reviews and Shameless Self-Promotion we received from the company. We could really use some more of your reviews, as our intrepid cadre of Jenny Revue staff can't see them all, and we always like to see more than one opinion. So if a show has wowed you, made you think, or made you rue coughing up $12 drop us a line at jennyrevue@gmail.com and give us your thoughts on it.
Anything Can Happen and We Let It—This year's Fringe motto kind of applies to our Shameless Self-Promotion section, a place for performers to tell you, the Fringe-going public anything. Well anything as long as it is 80 characters or less, and it can't be the same as your program blurb. So almost anything.
These Changing Times—I suppose I knew it was a different era now, when I opened the Fringe Program and was greeted by the many smiling faces of the Manitoba PC Caucus, instead of the formerly ubiquitous NDP Caucus that graced the Program's pages prior to last year. I am still awaiting the first play featuring a character based on Premiere Pallister, but I guess that will have to wait until next year. In other changes, I also noticed the changing of the sign on the former Crocus Building, now re-branded as the McKim Building. So you will need to update any directions you give to get to Venue 13.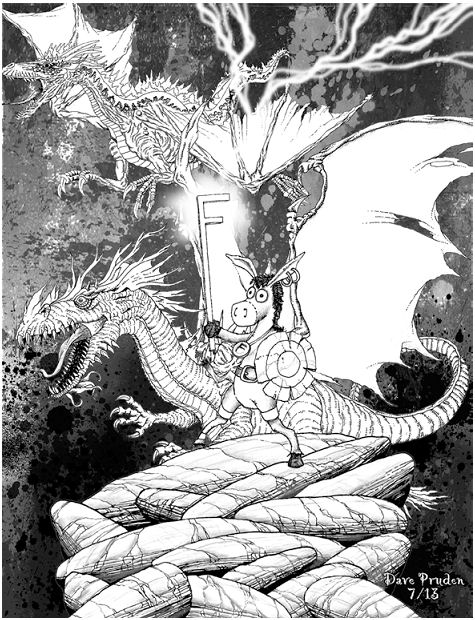 Parking and So-Long Bannatyne—With the Free Parking square being removed from the Fork's Monopoly Board, shows at MTYP will now be a little more expensive. One other note, the City will be changing Bannatyne between Waterfront Drive and Rorie Street. The Eastbound lane will be removed and replaced with "Reverse-in Diagonal Parking". They were out there Friday afternoon laying out where the lines will go and there is currently "No-Parking" signs for Sunday, so that may be when they are doing the switch-over. One other reminder, with the Canada Summer Games starting next weekend parking will be at a premium at the Forks (where concerts are being held), near the Museum (where the Sport for Life Centre is hosting events) and U of W (where the Duckworth Centre is also hosting events).
Nostalgia etc. etc.—I was glad to see the page in the Program that had all the 30 years of program covers for the Fringe. They are even available online. Past issues of the Jenny are in our archives so you can see what reviews some of the old shows got.
The Jenny Awards—On the last Sunday of the Fringe join us upstairs at the King's Head for our yearly wrap party. Starting around 10-ish, any company who has been mentioned in the Jenny may end up nominated for one of our fun categories. Winners of which go home with a highly coveted fabulous hand stitched Jenny Award. If any of you past winners have some stories or pictures of your past Jenny Award trophies, we'd love to hear them.
Murray Hunter
---