Making Contact
Write your comments/reviews. Sign your written submission and include a phone number or e-mail address where you can be reached in case we need clarification (phone numbers etc., will not be printed or given out); and get it to us by one of these methods:

---
The Jenny Revue is a publication of The Jenny Revue Inc., a not-for-profit corporation, funded solely by advertising and donations. It is not affiliated with The Winnipeg Fringe Festival, MTC, or any other organization.


Follow @JennyRevue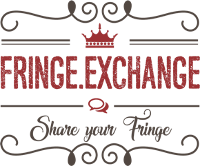 The Buzz
Jon Bennett: How I Learned to Hug
Jon Bennett—Dragon Arts Collective
Australian comedian and story teller Jon Bennett returns with a new show about the loves of his life, the loss of those loves and how that loss dampened his desire for public display's of affection (such as hugging) for quite some time. This venue is perfect for his show as it feels like you are just hanging out with him and a group of friends. He uses some projected images to help you visualise his journey, and the story is told with his charming, witty and often self-depreciating humour.
Murray Hunter
---
Shadow Aspect
Now We're Here Performance Co.—Eckhardt-Gramatté Hall
Visually, this play makes great use of all of their media. The opening overhead gives you the premise of the adventure to come—quickly, you get into the feast for the eyes.
The message and the lessons are simple but they take a long detour to get there. It's a nice journey but it's like taking the scenic way when you could have got there a lot quicker.
Ray Yuen
---
Forget Me Not – The Alzheimer's Whodunnit
Rob Gee—MTYP – Mainstage
Fringe favorite Mr. Gee is back again to play to his loyal fans. We fell in love with his sizable talent many years ago and have been back every year since. Relying on his experiences of many years working in the healthcare field, he brings us a humorous mystery that takes place in a care unit for Alzheimer's patients. He is performing his wonderful book of the same title. The tale is told through the voices of the various residents, staff and loved ones; some of whom exit in a decidedly sinister way. Rob's long, lanky rubber body is perfectly suited to express the tiniest characteristics of the cast of characters. His empathy and understanding of the unfortunate situations Alzheimer's and old age thrust you into, make you only hope you and yours encounter caregivers with such heart and insight. Yet he manages to show the humour that can be found in this life, if you are open to it. The writing is sublime, which makes for a most enjoyable show. The tale ends with a delicious twist, where the underdog has the last laugh.
An aside, a seniors group in Winnipeg borrowed his play and ran it for three sold out shows and is honouring him with a lunch and video of the production. He is now 'a proper playwright' and is thrilled. Buy the book, available after the show, for a great read you can pass on to the mystery lovers in the family. I did. Thanks again Rob!
Lisa Campbell
---
Macbeth Muet
La Fille Du Laitier—Pantages Studio
Shakespeare wrote a horrifying tale when he penned Macbeth, and this company has turned that story on its ear, and then some. Few words are spoken, certainly no Shakespearean English, but it doesn't matter. It also doesn't matter if you have never read Macbeth. The sequence of events is crystal clear.
The "Muet" performance is an intelligent and carefully crafted blend of, believe it or not, vaudeville, Punch and Judy, the violence of Polanski and good old storytelling. The humour punctuates, rather than overpowers the action, and the company has been respectful of when the horror in the plot must shine through. You have to see the battle scene at the end to believe it.
Jeremie Francoueur and Claire Prevost shine as Macbeth and Lady Macbeth, and all the other characters, for that matter. Their performances are exact, strenuous and totally believable.
With little of the spoken word the sound track for the show takes on added importance, and does not fail to deliver.
Some may see this show as a a parody of Macbeth, but I don't. In the moments when the audience should be appalled by events, we are. We as an audience, may not have Shakespeare's words to impact on us, but the intent and ramifications of the plot are in no doubt. The show is actually more choreography than theatre, but that doesn't matter either.
A beautiful job by the actors and the company. Right now, Macbeth Muet is at the top of my list as a must see.
Michelle Cook
---
Moments in Time: A Multi-Media Historical Experience
North Kildonan Community Players—Asper Centre (U of W)
This troupe got an appropriate venue here at the U of W since this show is not a show, but a lecture. As a reviewer, I think my job here is to critique the lecture, as opposed to reviewing the show.
The premise of the lecture lies on selecting monumental moments in time that changed the world. Each moment comes with a brief description and discussion on how it impacted the world. A screen scrolls pictures of memorable events and people in the background, and players move blocks in the foreground, which at times, relate to the topic.
Although the lecture refers to world events, the topics are very American-centric with a smattering of Canadian content. There was nothing outside Canada-US until near the end of the lecture. While the downing of the Berlin wall was an important world event, many consider Princess Diana's death more of a matter of tabloid news than world-impact.
Neil Armstrong's words are of course, immortalised—and they were appropriate for the time. However, in today's discourse, if you want to discuss equality and fairness, sexist terms like "man" (referring to the species) and "mankind" should not be part of the discussion.
Accompanying photos depicted people like Mohandas Gandhi and Nelson Mandela, but there was no discussion on either of them. Some of the "moments" they chose were very curious. Sure, the Nixon scandal and the Lennon assassination were memorable, but were they more important than the signing of the Armistice? The Tiananmen Square massacre? The Bay of Pigs? The dissolution of the USSR? Sorry, but not in the same league. And Buddy Holly's death is a worldwide notorious moment? Please.
As for the lecture itself, the speaker delivers the message animatedly and well, but needs some serious refining. Basic public speaking 101 dictates that you should not lean on the podium. There were also a considerable number of misspeaks, especially considering that he read from a binder. There's some much-needed polishing here.
This was an OK lecture but a better choice of topics could have make this a moment in time of the Fringe.
Ray Yuen
---
Fruit Flies Like a Banana: World Tour
The Fourth Wall—Tom Hendry Warehouse
This trio of talented musicians take the audience on a world tour by performing 15 different pieces related to 15 different countries or parts of the world. If they did nothing but play the music it would have been a great show. However, they amp up the difficulty and maximise the entertainment value by also performing often complex movement and using some interesting set pieces and their instruments as props to make a visual complement for each piece of music.
The sold-out crowd is shown exactly what they are in for with the first piece, a version of The Minute Waltz from Chopin (representing Poland), where all three zoom onto the stage on hoverboards. If you can imagine the RCMP Musical Ride performed by people on hoverboards instead of horses, all while playing a flute (Hilary Abigana), bass trombone (C. Neil Parsons) and accordion (Greg Jukes) it will give you some idea of the precise and amazing choreography involved.
The order of the set is determined by the audience, to add to the interaction.
I would describe the feeling after seeing the show as just "pure joy".
Murray Hunter
---
Paco Erhard: Worst. German. Ever.
Paco Erhard—Planetarium
If you saw his sold out show last year, never fear, this is brand new. With his quirky observations of people all over the world, he somehow manages to bring them back to one thing: being German. The strange and irrational views of those he encounters on his many travels give him more material and endless amusement than he can cram into an hour. Next year. He pretends to be unprepared but his show is smooth and polished, warm and folksy, with an ability to poke fun at himself and his native land. He has created a loyal following, as most were there after loving his show last year. If he keeps totally changing it up as he has, he will keep them coming back for more. His act doesn't depend on being German, but on being funny, and that he most certainly is. Longest line I've seen this year and deservedly so. Way to go,  Paco!
Lisa Campbell
---
Starman
WTFunk Productions—Pantages Studio
Co-written by the performers, Starman, is an examination of fate or preordination, and whether or not it is pertinent to our lives. The play creates a fable that says that when we are in the neverland between life and death, a star falls from the sky, assumes human form, and guides us through, either to continue life or die.
The antagonist, wrestling with his homosexuality, compounded by his strict Catholic upbringing, has tried to commit suicide. The antagonist, the Star, whose job it is to guide him through the process and ultimately recommend his "fate", is wrestling with her prohibition from humanity, dictated by unnamed powers beyond her. I won't spoil it, but both characters do come to a resolution.
Ferro Montantino, as the keyboard player, did add to the ambience of the show. I'm not sure if all the music was original but I did enjoy it.
I understand using the convention of a contemporary dance (early in the show), to express an emotional journey, but it did kind of bug me. I appreciate the effort, but I'm not a big fan, and, from where I was sitting, I couldn't see most of it. Even though it was paired with some lovely choral work, I kind of zoned out until it was over.
A solid show, with dedicated performances and careful attention to detail.
Michelle Cook
---
6 Guitars
Chase Padgett Productions—PTE – Mainstage
This show has been around a long time (330th episode tonight!) and it still sells out consistently—and with good reason. Padgett is no Jimi Hendrix but he is an accomplished guitarist and he wields the axe expertly. It's not just the music that elevates this act; the stories and the humour make up a large part of this spectacle. This is a definite must-see.
Ray Yuen
---
Sticks + Bones
star star theatre—Tom Hendry Warehouse
I've found it! That hidden gem, with no buzz, that brings you joy as you stumble upon it and remember why taking a chance is a good thing. This was everything you want in a Fringe play. It was magical and mysterious, telling the tale of a girl mountaineer, lost in the wilds of BC and forced to make a deal with the devil. Puppetry was used to tell the tale and was masterful and playful. Two actors helped propel the story with interludes of acoustic guitar. The audience was most appreciative and hopefully they will spread the word. This charming piece needs to be seen by more. Bear in mind the huge capacity of this venue. If you want to be assured of a seat and see something amazing, this is it!
Lisa Campbell
---