2023 Editorials
Exit Stage Right
Filling the Holes
Hanging In There!
Things Are Falling Into Place
XXX's and OOO's
Jenny Awards 2022
30th Year Special Features
Jenny Awards Gallery
Making Contact
Write your comments/reviews. Sign your written submission and include a phone number or e-mail address where you can be reached in case we need clarification (phone numbers etc., will not be printed or given out); and get it to us by one of these methods:

---
Social Media
Please Follow us on Social Media to get updates on Reviews, News and other content about the Winnipeg Fringe.

---
The Jenny Revue is a publication of The Jenny Revue Inc., a not-for-profit corporation, funded solely by advertising and donations. It is not affiliated with The Winnipeg Fringe Festival, MTC, or any other organization.

Privacy Policy

---
The Jenny Revue is published on Treaty 1 territory, the lands and traditional territory of the Anishinaabeg, Cree, Oji-Cree, Dakota, and Dene Peoples, and on the Homeland of the Red River Métis.
Letters – Letters to Jenny
Dear Jenny,
I have to admit that I was skeptical when the Fringe announced four venues in St. Boniface, two each at the Centre Culturel Franco-Manitobain and Théâtre Cercle Molière. It turns out to have been a great move. The four venues are comfortable spaces for performances, and the two larger venues pose less risk of a show being sold out, meaning that you don't have to worry so much about going all that way only to be disappointed.
You can plan a day of Fringing there, with several options for eating between shows, and if you don't mind a bit of a hike, you can shop at Choclatier Constance Popp or many other stores that you might not have had a chance to visit before. There's adequate free parking, and best of all, some of the best shows at this year's Fringe.
Kevin Longfield
---
A Review of Venue 17
Why is The Colin Jackson designed with a main section—treated as a typical end stage audience and a groundling aka plebeian section?—In The Colin Jackson this consists of 3 rows on the side (audience right, stage left) who are largely ignored. If I'm going to be treated as a plebeian (I Googled it) in the side seating then at least cut my ticket price. The groundlings at Shakespeare's Globe paid a penny back in the day; now they pay £5. (I was there last summer.)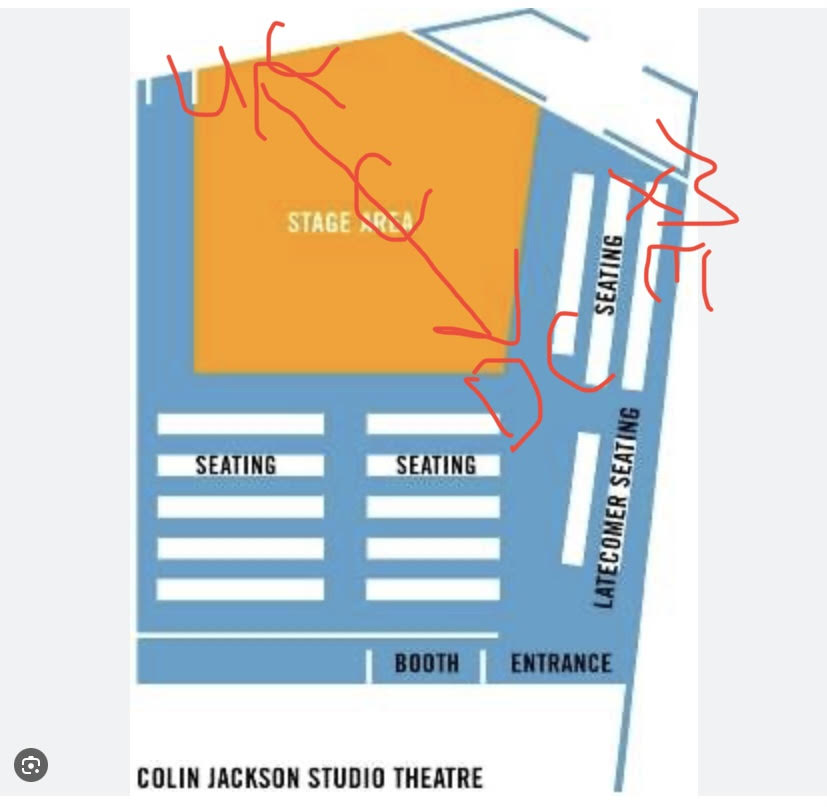 If a show is blocked & designed strictly for end stage then please do not sell those 20 side seats. Take the financial hit; don't sell them and instruct your ushers not to let people sit in them.
If those 20 side seats are in use, then stop ignoring that they exist in the staging of your shows. Side glances do not count as blocking for a side audience. Performers/Directors get a map of the venue's configuration in advance. The Colin Jackson is a diamond-shaped partial thrust. The centre line in that theatre is the upstage right corner to the downstage left pillar. In a thrust, it's imperative to play the angle.
I attended The Family Crow on July 22 and was seated in the side audience in the upstage back row. I found myself comparing the two sections of the crowd and it was like two audiences having two opposing experiences in the same room at the same show.
The side vibe was palpably low. Those 20 people were comparatively checked out. Not at all experiencing the same play as the main section audience. We paid the same ticket price and got a lesser effort. We experienced exclusion.
My husband had a single seat in the main treated-as-end-stage section and he enjoyed the show. So did the family seated in front of him, so did the perpetually smiling person seated to his right, so did most of the main treated-as-end-stage section of the audience.
If I wasn't instantly agitated by feeling excluded and sensorially bombarded by blinding light, I might've enjoyed the show, too. (You'll have to see The Family Crow from the side audience to understand.) The side audience at The Family Crow gets a frustrating pendulum-swing experience of I-can't-see-it's-way-too-dark and Ah!-it-burns!-too-bright! (Ugh. I miss the old incandescent lightbulbs.) As a Neurodivergent "AuDHD" person, I found the lighting very assaulting. Often it was aimed right into our underling eyes
And as a Neurodivergent person reviewing a physical space, I feel I must also make mention of PTE/Portage Place's terrible ventilation system. Bring a parka, a bikini, and wooly socks—you need to dress in layers for that building.
I'll be sure to get in line much earlier if I'm seeing more at Venue 17 to ensure better sight lines. I didn't get there earlier because the trek from The Exchange District to Portage Place was chock full of barriers including locked entry doors on the Ellice Street side of the building and other time-consuming encounters along the way (but that's a review of our three levels of government best left for another forum.)
Happy Fringing!
Kim Zeglinski
---
Dear Jenny,
I thought that Free Press reviewers had enough Fringe experience to be able to, in a constructive way, be critical of a show. It looks as if Randall King didn't get the memo. His review of La La Luna Sea (Free Press July 21, 2023) characterizes the show as SFAF (Strictly Friends and Family) and then applauds the fact that there are enough members in the cast to make the show successful on this basis. If he is trying to be clever, or worse yet to be funny, he isn't. His review is not constructive, it is demoralizing. He knows the kind of impact this review will have on the performers and the show generally, and he should be ashamed of himself.
Michelle Cook
---