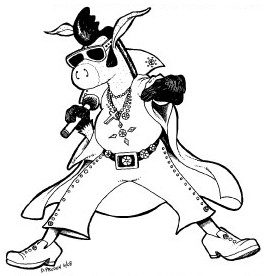 The key parts of the Jenny are the following:
Reviews—We do a few things differently at the Jenny, one of the biggest differences is we do not use a star or number rating system. Yes, that means you actually have to read a review to see what the person reviewing the show thought about it. We have always done it this way, and think that it is a better way to do things. We accept reviews from anyone, with only one condition: You must provide your real name, and some form of contact info (in case we need clarification). In general, as long as the review was informative it will be published on the website.
Shameless Self-Promotion—If you are in a Fringe play and haven't shamelessly promoted your show, put together 80 words (or less)—different from your program blurb—and send them to us. Clearly mark them as SSPs since it's difficult to tell the difference between an unqualified rave by a satisfied patron, and a bombastic bit of self-promotion by a company scribe.
Letters—Got an opinion on something at the Fringe? It is always better to get it off your chest. Send us your thoughts with your name and contact info and if it catches our eye we'll spread the word.
News—Our editor is always looking for interesting or wacky things that have happened during the Fringe. If you have a tale to tell, let us know.
The Jenny Awards—On the last Sunday of the Fringe join us upstairs at the King's Head for our yearly wrap party. Any company who has been mentioned in the Jenny may end up nominated for one of our fun categories. Winners of which go home with a highly coveted fabulous hand stitched Jenny Award. If you don't win there is always a great selection of beer to down your sorrows with.
---