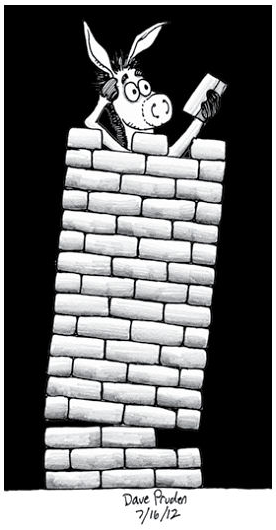 Biking: My Master's Thesis focussed on cycling as a mode of transportation. I am an avid cyclist, putting on an average of 1500-2000 km from spring to autumn. Not only does cycling improve your strength and health, it also saves the environment and infrastructure. During Fringe, you don't have to look far to see thousands of bicycles chained to makeshift bike stands. For the duration of The Festival, Exchange District Winnipeg looks like Amsterdam, where cycling is the dominant transportation mode. Here, cyclists are the norm, rather than the pariahs.
Inclusion: Not that long ago, members of the LGBTQ+ community were targeted and assaulted in various areas of downtown. We as a city have come a long way since then, but let's not kid ourselves; homophobia continues to permeate many aspects of our society. Hatred is not as condoned as it used to be but it still lurks in dark corners, leaving people afraid to come out, and afraid to express themselves. Over the duration of The Fringe, you see many members of the LGBTQ+ community unafraid to be themselves. Old Market Square—and to a certain extent—the entire Exchange District transforms into a Safe Space (Safer Space anyway). As an Ally and a feminist, I strive to bring equal right to exist for all humans, regardless of race, religion, orientation, sex, gender, capability, age, and the list goes on. Fringe central brings together a wide spectrum of people, all with the common pursuit of having a good time, regardless of what you are, what you look like, and what you do.
Tourism: Winnipeg isn't a tourist hub. Most travellers come here for business or to visit friends/family. You don't often hear of people coming to Winnipeg because they simply want to visit. We are not Toronto, Vancouver or Montreal. The Fringe is one of the festivals that, by its nature, draws people to come to our city. Hundreds of performers descend upon our city to showcase their acts, but in between, they roam our streets and take in our sights and amenities. Winnipeg should be proud to have tourists marvel at what we have to offer. During this time, we are a tourist centre.
The Festival: Finally, there's the festival itself. What a wonderful opportunity to embrace some truly great and unique experiences. To be sure, not all shows are for everyone but nothing can beat the feeling of coming out of a theatre after an exhilarating experience. It's satisfyingly rewarding to be able to tell everyone about those moments after I live through them.
---