2023 Editorials
Exit Stage Right
Filling the Holes
Hanging In There!
Things Are Falling Into Place
XXX's and OOO's
Jenny Awards 2022
30th Year Special Features
Jenny Awards Gallery
Making Contact
Write your comments/reviews. Sign your written submission and include a phone number or e-mail address where you can be reached in case we need clarification (phone numbers etc., will not be printed or given out); and get it to us by one of these methods:

---
Social Media
Please Follow us on Social Media to get updates on Reviews, News and other content about the Winnipeg Fringe.

---
The Jenny Revue is a publication of The Jenny Revue Inc., a not-for-profit corporation, funded solely by advertising and donations. It is not affiliated with The Winnipeg Fringe Festival, MTC, or any other organization.

Privacy Policy

---
The Jenny Revue is published on Treaty 1 territory, the lands and traditional territory of the Anishinaabeg, Cree, Oji-Cree, Dakota, and Dene Peoples, and on the Homeland of the Red River Métis.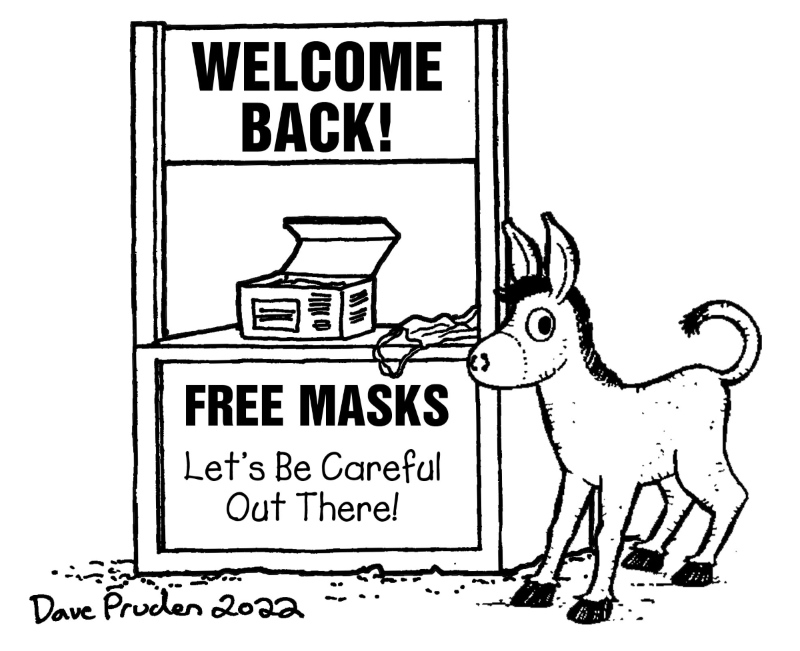 The 2022 Fringe is about to open, and we can't wait to get started Fringing. "Fringing", that word has always looked weird to me, but seems even more unusual after 2 years of virtual Fringe. The Fringe has always been one of my favourite times of year, between seeing shows, volunteering and working with the Jenny it is quite chaotic but has always provided a great way to enjoy part of our short Manitoba summers. It will be great to see all the Fringe goers, performers, and volunteers that I haven't seen for so long. We will mostly be an electronic Jenny again this year, but will have a few Jenny boxes out there with some single sheet paper issues throughout the Festival. If you can't remember what the Jenny Revue is all about, you can check out our FAQ to get a refresher. Be sure to Follow us on Twitter @JennyRevue to keep up with any updates and news. You can also email us with your reviews, SSP's, Letters, and News at: jennyrevue@gmail.com
I Know It Has Been a While But I Don't Remember This—There are a lot of new things this year, so we will start by going through a few of the things that are new.
Venues—There are a lot of venue changes this year, so make sure you double check where you are going, because the "NO LATECOMERS" rule has not been changed. Of particular note there are two new venues on the second floor of Portage Place, Venue 3 The Clock Tower and Venue 4 The Fountain. They are both former stores that have been converted into theatres. Click here for a map showing exactly where they are on the second floor. Additionally, some of the long term venues are no longer around including Son of Warehouse, U of M Asper Centre, Pantages, and West End Cultural Centre. As a bonus all the venues have little air conditioner icons next to them in the guide in order to keep us all cool.
Kid's Fringe—The Kid's Fringe location has moved from near Old Market Square to Stephen Juba Park at Bannatyne Ave. and Waterfront Drive. They will have plenty of entertainment, games, and activities and will run 11am to 3 pm Monday to Friday and 12 pm to 6 pm on the weekends.
Old Market Square—The entirety of Old Market Square is now licensed. This is a huge change, as the whole Square will be fenced in with three access points and Info Tents at each entrance. You do not have to be 18 to enter, but ID will be checked and wristbands handed out where beer and drink tickets are sold. The Beer Tent area will still have tables but there will be no additional fencing around it. There are some restrictions that go along with this such as no smoking, no dogs (except service animals), and no bikes within the fenced area.
Tickets—All tickets will be available for sale in advance, in previous years this was capped to around 50% of seats. This will mean sold out shows will not have tickets for sale at the door. Additionally, ticket sales for the first show of the day will go on sale 30 minutes before show time instead of 1 hour that was used in the past.
Show Times—The shows are now starting at 11 am in the regular venues (instead of Noon) and will generally not start after 10:15 PM (aside from a few exceptions and the Cabaret that is on Tuesday night). There are also now days (either Monday the 18th or Tuesday the 19th) at each of the main venues that will be 'Dark' in that there will be one day where no shows are scheduled at that venue.
Discounts—In addition to the "2 for $12 At the Door" discount shows which are highlighted in the guide there is now $10 price on all shows for those 25 and under. Shows may extend that discount to other groups of people.
Corral Your Bike—The supervised Bike Corral is back again this year but has moved to the plaza on the Main Street side of the Pantages Theatre by the Street Car. There will be someone watching over the bikes from 10 am to 12:30 am.
The Jenny Awards—The Jenny Awards will be held on the last Sunday night of the Fringe (July 24th). "That isn't new", you say, well that is true, what is new is the location. This year we will be holding our end of the Fringe celebration and awards show at Across the Board Gaming Cafe. It is a fully accessible location on the ground floor of the McKim Building (formerly Crocus Building, or Big 4 Sales if you are even older) at 211 Bannatyne Ave. and Main Street. They are fully licensed and have a great menu for dining in and take-out. We will open the doors at 9:30 pm and hope to have the awards part of the evening starting around 10ish.
Now Back to Our Regularly Scheduled Editorial—Well that was a lot of new stuff, so I'll just close with our usual request for all you Fringers (shudder) to send us your reviews and help out others in getting the word out about the hidden gems out there. With 100% of tickets available for sale in advance and the reduced number of shows on the schedule, the popular shows are possibly going to be sold out earlier than usual, so many people might be looking for something different to take a chance on. I think that is always one of the best parts of the Fringe, finding and really enjoying a show that you may have skipped over in your Program. Have a great Fringe!
Murray Hunter
---