Making Contact
Write your comments/reviews. Sign your written submission and include a phone number or e-mail address where you can be reached in case we need clarification (phone numbers etc., will not be printed or given out); and get it to us by one of these methods:

---
The Jenny Revue is a publication of The Jenny Revue Inc., a not-for-profit corporation, funded solely by advertising and donations. It is not affiliated with The Winnipeg Fringe Festival, MTC, or any other organization.

Privacy Policy

Follow @JennyRevue
The last few days of the Fringe are upon us and I just want to give a big shout out to all our staff who put in a ton of time and effort in putting together the Jenny this year. Many thanks as well to our loyal readers, supporters and contributors.
Don't forget that the Jenny Awards will be on Sunday the 29th at 10pm (ish) upstairs at the King's Head. Tomorrow and Sunday the website will feature another column by Coral, who will explain the inner machinations of the Jenny's in more details. Another new and timely cartoon by Dave Pruden makes me think about how fast these 12 days go by.
Murray Hunter
Now another article by Jenny Coordinating Reviewer Ray Yuen
As you can imagine, being a Fringe reviewer means spending a lot of time in front of The Cube at Old Market Square with my Surface, typing away while enjoying a beer and a free show. "Free" is the key word here. Even though it's no pay for the viewer, most of the acts are put on by professional actors, artists and musicians.
Guess what! It's "free" for them too, meaning they don't get paid for performances in The Cube. When I hear about people "going to the Fringe," many of them refer to watching a free show at The Cube; many "Fringers" have never entered a theatre. It's a great way to spend an afternoon/evening with the family without having to spend a dime for the entertainment.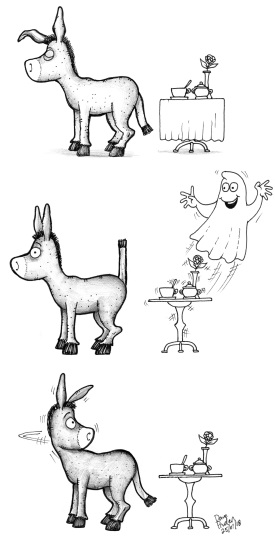 But it's not free.
Someone has to pay—and if no one pays, it's the performer who pays with their time and their effort. I often hear the performers tell the audience that pass-the-hat is the only way they get paid. Sadly, I don't see many people tipping into the hat.
The performers suggest $10 as an average donation for watching the show. I know: $10 sounds steep to drop into a hat, and maybe it is. Consider though that the average price of a Fringe show per person is $10-$12. The $10 doesn't sound like a lot anymore—does it? Especially if you're a family/group of four and you only pay once. That's $2.50/person, less than a cup of coffee.
I'm not suggesting that you should pay $10. If you casually walk by and stand around for one song, did you get $10 value? Maybe not. Perhaps when the performers ask for $10, it sounds intimidating, especially since you've only been there for five minutes. It shouldn't be intimidating. If you intended to drop $1, drop $1. Just because they suggest $10, it doesn't mean you're obliged to pay it. Most of these people are struggling performers; they're very happy for anything you can give them. How many times have you walked by a busker and dropped a loonie? Just by passing them in a mall and ingesting 15 seconds worth of music?
For the people who sit through the entire show, the prompt is for you. You enjoyed an entire performance. If the suggestion is $10, you should pay $10. If your group went into a show, you'd pay $10 each. If you go to a show outside of Fringe, your $10 wouldn't get you in any door.
Many of these performers do not live in Winnipeg. This is not a hobby for them; this is their livelihood. They do not come home to a regular paycheque. They need to put away enough money to get to their next gig in the next city.
In today's environment of fiscal restraint, one of governments' first hacks always comes off the arts. Funding and grants get cut all the time and if you as the customer aren't willing to pay, where does the money come from? We all agree that the arts have a very important place in our lives. This isn't something that we can afford to let die.
The shows may be free, but please pay the performers—their time and their art are not free.
Ray Yuen
Coordinating Reviewer
---