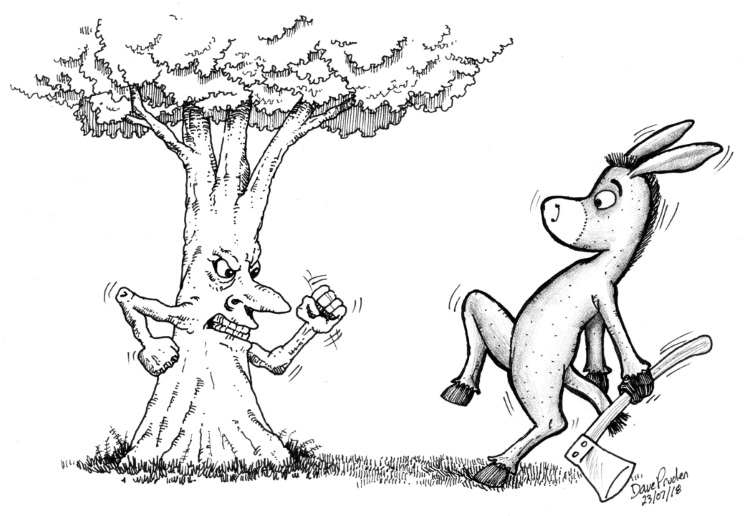 If you are wondering why the two remaining Jenny Boxes have been empty the last few days it is because we are only doing a few limited runs of these one-sheet issues as all of our content is online. We ended up with a lot of leftovers of the final printed issue last year so we reduced the number of copies of those special printed issues. The good news for people who are looking for some printed copy is there will be a new issue out later today (Wednesday) that features a column from Coral, which you can also see below.
The new cartoon from Jenny Illustrator Dave Pruden also got me thinking about how much paper the Fringe generates. It is a lot! Posters, Flyers, Programs, Tickets, and the Fringe Programs. Unfortunately most of that paper is necessary to promote and provide information about the shows. The Fringe is trying to help with this in moving to the one piece tickets and generic advance tickets picked up at the venue. The latter is probably generating a lot more paper as an unintended consequence of people printing out their ticket confirmations. Hopefully everyone does their part to at least recycle as much of the paper generated as possible.
Murray Hunter
And now Coral…
This Is How We Do It—Sorry for the Earworm.
Oh, how I dally and delay when there's no press deadline to meet and no print shop hours to beat. Still, after spending the front weekend wandering around the square, I figured it was past time I pitched in with my 2¢ worth. (And you know what 2¢ is worth these days).
With all the scut work (explaining for the newbies what is Jenny, how to Jenny, what SSPs are, etc.), done most excellently, by the intrepid Murray and Ray, bless their organized little heads, I am free to concentrate on those things that have been dealt with only in the broadest terms.
Last Gasp—Let's begin with the end.
The 27th annual Jenny Awards is your final show at the Winnipeg Fringe Festival.
'Round about 10' on Sunday night (July 29th) , come to the King's Head's 2nd floor and be prepared to make a hell of a lot of noise in support of the nominees you hold dearest. Now who they'll be or what kooky category they'll be shoehorned into is a mystery at this juncture, but they will all have one thing in common—they will all have been in the Jenny in some way.
That is embarrassingly easy make happen. If your show is reviewed, or you write a review of someone else's show (mention your company or show in your byline), or you write a letter, or have Fringe stories or beefs or bouquets to share, DO IT. (If you don't want to write it, tell it to me, or Murray or one of Jenny's other industrious scribes. Or, (and I can't stress this enough):
Write a Shameless Self-Promotion!!!
Come on, performers! Out of 181 shows (by my hasty count) only 23 have whipped up a little hyperbolic pandering on their own behalf. Who, better than you, to toot your own horn? Not only do you get another 80 or so words to tell the Fringe hoards why what you got is what they want, it automatically makes you eligible to be nominated for one of our terrific Jenny Awards.
(You can't pawn them, but you won't want to because they are 13 of the loveliest, little, unique, stuffed Jenny donkey trophies crafted by the skilled hands and quirky imagination of Michelle Cook, who, now that she doesn't have to get Jenny from web to print, to you, can devote all her time to the herd.)
As to SSP guidelines, it's 80 words or so, NOT your program copy—and now that the SSP shares space (on our site) with the actual program blurb, and your Jenny reviews, it's just silly to put the same thing twice.
Oh yeah, Skip the stars, please. Even if you were awarded a galaxy somewhere else on the Fringe trail, all it says is that somebody, somewhere, likes you. Tell us why we are going to like you.
To all the rest of you out there, sit down at a computer (or if you must, write it out long hand and put it in our hands, or in a Jenny box (there's one in the stage left Beer Tent), and tell us what you think of a particular show or any part of your Fringe experience.
Thanks to Ray's organizational skills, the Jenny staff writers are getting to as many shows as possible but they are only humans, over caffeinated, sleep deprived humans, to be sure, but even they can't cover it all.
And I know the Jenny's philosophy of letting the ticket buyers talk about the shows has caught on at the Fringe to the point that even the program is soliciting reviews along with, but separate from, its two media sponsors, the Free Press and CBC. And then there's Facebook and Twitter and probably other sites I don't know about and, frankly, don't want to know about.
The point is, you have your pick of outlets to share your opinions, most of which don't necessarily ask for real names or emphasize content over one-liners of praise or pain like we do. But if you share your thoughts in our digital pages, you might be the reason why that show you loved goes home with a new little donkey friend. And isn't that a good thing?
Coral McKendrick
Editorial Goddess
---